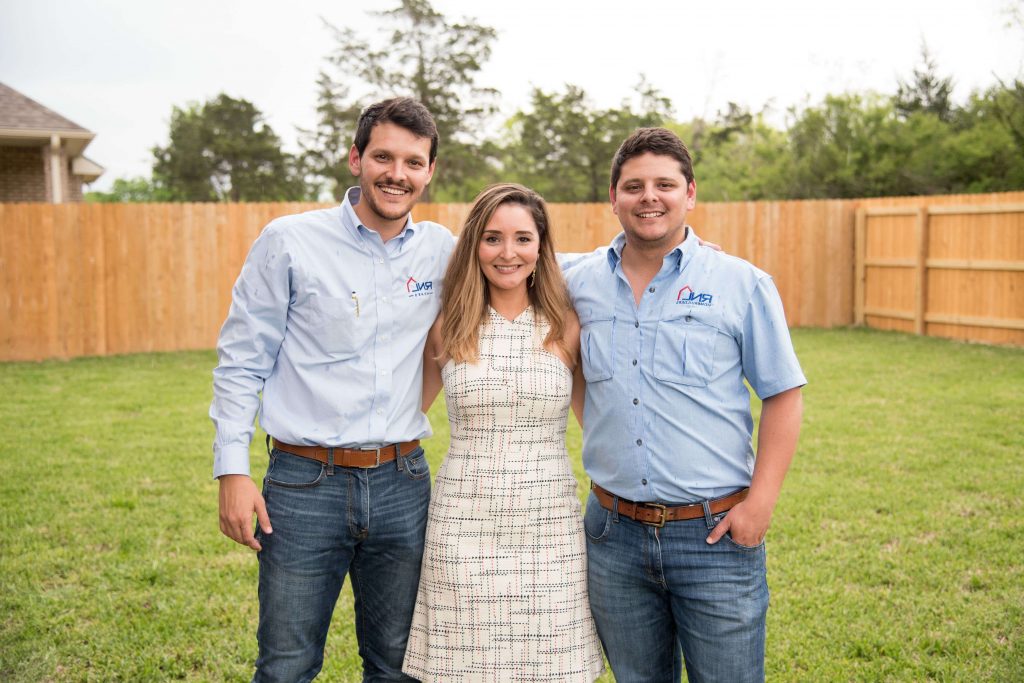 Read what current homeowners say about us!
Trying to choose a builder for your new home in Bryan-College Station? We'd love the opportunity to work with you, and we want to share some comments from our current homeowners.
These are reviews we've received within the past 12 months. We're proud of our many 5-star reviews, but what's even better is knowing that we've exceeded our customer's expectations. It's what we strive for with every home we build.
"My husband and I were driving through a subdivision that caught our attention and we made an impulse decision to stop by an open house being held by Ricardo of RNL. At the time, we were already under contract for another property but thought we would stop by for comparison purposes. Little did we know we would be walking into our first home!
Ricardo impressed us from the minute we walked in. He made every person feel welcome and his kindness was complemented with his genuine knowledge of the house. It was apparent that Ricardo was passionate about the house and the design, special touches, and quality spoke for themselves. My husband and I spent time in the house and knew that we would be making a huge mistake if we didn't make every effort to make this our home. We are thrilled to now call this house our home.
Throughout the process, we had the joy of meeting the other siblings, Nora and Luis. They are just as wonderful, kind, and sincere as Ricardo. It is truly a special family and we could not be happier to say they built our first home. Nora went out of her way to provide us information about lighting fixtures, design tips, and appliance recommendations. Luis is always professional, extremely efficient and quick to answer any questions we have about the property. Even before we closed on the property, they invited us to a neighborhood party to welcome us to the community.
We recommend RNL a million times and if we ever move, we hope it is to another RNL home.
– ASHLEY & JESSE
"RNL Homes were outstanding to work with from start to finish on the construction of our house. Ricardo, Nora and Luis were terrific to work with during the entire building process.
This company is a true family business and they also make you feel a part of their family. They were wonderful to work with during the entire building process. They also were always available to assist and answer any questions that came up during the building process.
RNL builds a high quality house at a great price. RNL also uses highly talented contractors who stayed on schedule and actually helped get our home completed earlier than expected.
We are extremely happy that we chose RNL Homes and highly recommend anyone thinking about purchasing or building a home in the Bryan/College Station to contact Ricardo, Nora, Luis and RNL Homes."
– ROB & JACKIE
"Our experience with RNL Homes has been nothing but exceptional. During the buying experience Nora, Ricardo, Luis and their team made every effort to ensure the process went smoothly and that every concern was addressed quickly.
The quality of the homes RNL builds is very high. During the mortgage approval process, the appraiser noted that home had "superior quality of construction compared to other homes in the area". From the methods used in installing insulation to fit and finish of moldings, our RNL home stands out among all the other homes we considered. After the closing, RNL has been there making sure we remain completely satisfied.
If you are looking for a new home in the College Station area, I highly recommend you take at look at homes by RNL Homes."
– PETE & DEBORAH
"RNL exceeded our expectations in every way imaginable.
As people, they are just incredible to talk to, and so knowledgeable of what they do. As builders, they have an amazing product that is markedly superior to other builders not only at the same price point, but also higher price points as well.
What's amazing is that the standard product already comes with many of the "typical" upgrades from other builders. Plus, they go above and beyond in terms of the less "fancy," though perhaps more important, aspects of home building (foundation, water-proofing, insulation, etc.).
Save yourself some time and headache and let RNL build your home. You'll be glad you did."
– TRISH & JOEL
See more reviews of RNL Homes.