We are Now Building New Homes in Oakmont and Mission Ranch
You know you want a new home, but you're just not sure where to build. If this sounds like you, we invite you to get to know RNL Homes' two newest communities: Oakmont in Bryan and Mission Ranch in College Station. If you've been searching for a community that has amenities for your entire family, these two Bryan-College Station communities definitely fit the bill. We're excited to be building in both locations, and we can't wait to show you what we have to offer!
All About Oakmont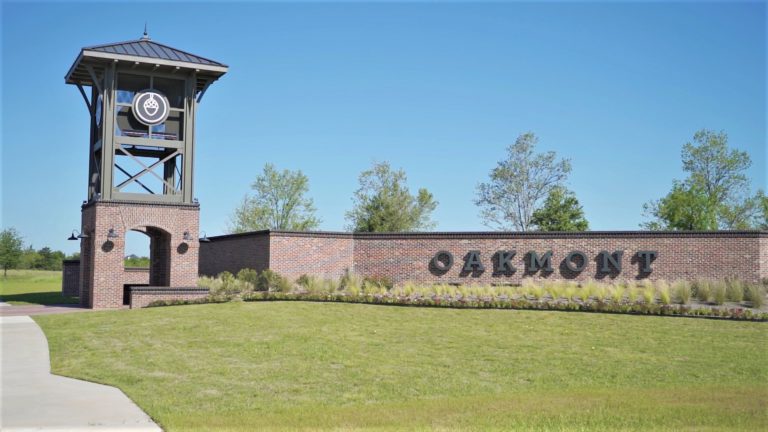 Oakmont was inspired by simpler times, when neighbors looked out for one another and kids played outside all day long. Oakmont was designed with families and nature in mind, with plenty of places to spend time together, get away from it all, and enjoy each other's company. Oakmont's amenities include:
Miles of scenic nature trails
Almost nine acres of parks and green space
Large amenity center with indoor fitness center
Community pool with splash pad
Beautiful ponds throughout the property
Easy access to Aggieland attractions
Homesites Sized to Fit Your Family
At Oakmont, you can build your new home on your choice of three sizes of homesites. Oakmont 55' – from the low $300s.
Four floor plans to choose from, ranging from 1,829 to 2,478 sq. ft.
3 to 5 bedrooms
2 to 3.5 baths
2 or 3-car garages
Oakmont 65' – from the low $340s.
Six floor plans, ranging from 2,047 to 2,724 sq. ft.
3 to 5 bedrooms
2 to 4.5 baths
2 or 3-car garages
Oakmont 75' – from the high $380s
Six floor plans, ranging from 2,298 to 2,615 sq. ft.
3 to 5 bedrooms
5 to 4.5 baths
2 or 3-car garages
If Oakmont sounds like the ideal spot for your new home in Bryan/College Station, we invite you to schedule a private onsite tour or virtual tour and get inspired by our beautiful new model home! Our model home showcases the Caroline floor plan, and its address is:
4248 Harding Way Bryan, TX 77802
Make Your Way to Mission Ranch
Mission Ranch is College Station's first true master planned community. Drawing inspiration from the historic missions of Texas, and infused with classic Hill Country style, Mission Ranch is a community rooted in togetherness. If you're looking for your future home to be surrounded by nature and located in the heart of College Station, Mission Ranch checks both boxes.
Mission Ranch Amenities
Having so many amenities so close to your front door is the definition of an ideal lifestyle. When you choose to build your new home in Mission Ranch, you can enjoy all this:
Resort-style pool
Private lake
State-of-the-art fitness center
First-class clubhouse
Miles of walking, running, and biking trails
Parks and green spaces
Stunning Wooded Homesites
We're building a limited number of new College Station homes at Mission Ranch – so if your interest is piqued, contact us soon! Choose from one of our five floor plans, with prices starting in the upper $390s. Here's an overview of the options at Mission Ranch:
2,298 to 2,724 sq. ft.
3 to 5 bedrooms
5 to 4.5 baths
2 or 3 car garages
The closest model home to Mission Ranch is located at Oakmont. Its address is:
4248 Harding Way Bryan, TX. 77802
Mark your calendar, our new model home in Mission Ranch will be opening to the public early September, 2020 and will be featured in the Parade of Homes this fall.
Shop From Your Home, or Ours!
To keep our team and our customers safe, onsite tours are by appointment only and must be scheduled in advance.If you visit us onsite, masks are required in compliance with state and Brazos County regulations. We've also recently added two new safe, convenient ways you can tour our beautiful model homes.
1. Virtually guided tour: Tour our model home with a virtual guide. Our sales coordinator, Ariel, will be there virtually via Google Home and a dedicated flat screen to guide you and answer any questions.
 
2. Live video tour: Explore our homes from the comfort of your couch. Ariel will walk you through our model home and answer your questions as you watch from your preferred smart device.
Our model homes are completely sanitized between each onsite visit. To set up a tour with a virtual guide, call us at 979-977-5775 or email ariel@rnlhomes.com. To learn more about our new ways to tour RNL Homes, watch this short video. We're also available for virtual meetings if you have questions or would like to discuss building a new home Bryan College Station.
Just call us to schedule your appointment! We hope to see you soon!