What's the history behind the Texas A&M/UT football rivalry?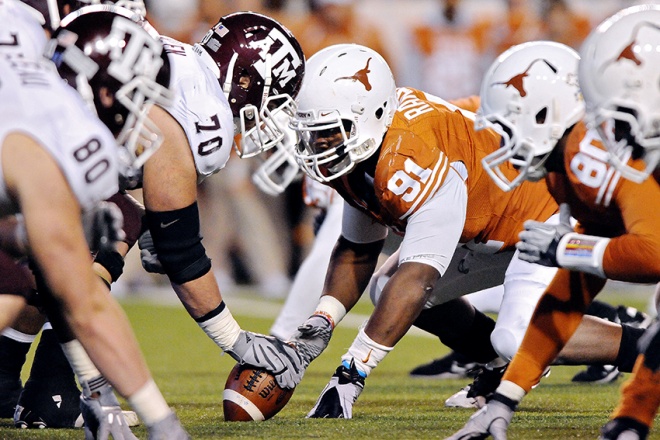 Over 100 years of football
Today's blog takes a little break from homebuilding and focuses instead on a topic near and dear to the hearts of most Texans: football!
Choosing a new home in Bryan/College Station means hearing about the long and intense competition between Texas A&M and its rival, UT. Have you ever wondered how it all got started? We have some answers for you.
From 1894 until ??
The first meeting between the two universities took place in 1894. The rivalry between the Aggies and the Longhorns was played out every year from 1915 through 2011, when A&M left the Big 12 to join the SEC (Southeastern Conference).
Two years ago, Chris Del Conte, Athletic Director for UT, contacted Texas A&M Athletic Director Scott Woodward to suggest a home-and-home series between the two schools in 2022 and 2033. Since A&M's schedule was already full, Woodward declined.
But who knows if the historic matchup is actually over? With so much interest in the rivalry, it's entirely possible the two schools may meet again.
How much interest, you ask?
· In 2017, Governor Greg Abbott was quoted as saying, "My next goal as governor is to reunite the Texas-Texas A&M rivalry. Hook 'em Horns."
· Earlier this year 88% of A&M students polled said they wanted the rivalry brought back.
· In November 2018, a bill was introduced in the Texas Legislature which, had it passed, would have required the two schools to play a non-conference, regular-season game against each other on the fourth Friday, Saturday, or Sunday of November every year.
· And in February, Governor Abbott even called for the reinstatement of the contest in his State of the State address!
A full sports rivalry between A&M and UT, called the State Farm Lone Star Showdown, was also held from 2004 through 2012. It ended when A&M moved to the SEC.
Interesting aspects of the rivalry
The rivalry between the two Texas schools is the 3rd longest in college football history. The fight songs of both schools mention the other school in their lyrics. In the event of a UT win over A&M, the UT Tower is lit in what's called an "orange-out." The last time that lighting scheme was used was November 24, 2011. And in October 2006, the Wheaties box featured an homage to the rivalry, featuring the helmets and stadiums of both teams. This was the first time the Wheaties box ever memorialized a college football rivalry.
Pre-game preparation
Texas A&M students and fans had a 90-year ritual known as "The Bonfire" which symbolized "a burning desire to beat the hell out of T.U." A tragic accident in 1999 led to the bonfire being put on hiatus. In 2002 a student organization began holding an unsanctioned bonfire off-campus which to this date, takes place every year here in Aggieland.
While the rivalry was active, University of Texas students and fans participated in a rally called the A&M Hex Rally. The rally was put on by the Texas Exes organization and began as an attempt to break a winning streak by Texas A&M on the Aggies' home field.
Ready to move back to your alma-mater or own a game-day home in Aggieland?
We love college football and very much look forward to a winning season for the Aggies.
If you're looking to move back to your alma-mater or simply love Aggieland and want to call it home, give us a call! Every home we build is tailored to each customer and features exceptional energy-efficiency and value. It's what we call the RNL way.
Ready to build a new home in Bryan-College Station? We're here and would love to help!