Bryan-College Station Homebuilder, RNL Homes, to be Featured 
The Greater Brazos Valley Builders Association Parade of Homes™ will be here before you know it! We're excited to announce we will be featuring our model home in Oakmont and our new model home in Mission Ranch at this year's event.
When and Where?
The 2020 Parade of Homes™ is scheduled for two weekends: August 28th, 29th and 30th and September 4th, 5th and 6th.  Hours are Friday from 1 to 7 p.m., Saturday from 10 a.m. to 6 p.m., and Sunday from noon to 6 p.m. To see the route for the parade, check Insite Magazine or the Parade of Homes™ app.
The Bryan model home we are featuring in Oakmont is located at:
4248 Harding Way, Bryan, TX 77802
The College Station model home we are featuring in Mission Ranch is located at:
1912 Cottonwood Terrace Ct. College Station, TX. 77845
About our Parade of Homes™ entry in Oakmont:
Featuring the craftsman style made popular by design programs on HGTV, with clean, timeless lines and rustic wood accents, this new Bryan-College Station home perfectly complements the natural beauty of the Brazos Valley.
Meet Caroline
This specific floor plan is the Caroline, one of our best-selling choices for new homes in BCS.  At nearly 3,000 sq. ft. there's plenty of space for entertaining or spending quality family time – and every inch is well-utilized.
You'll love the open concept and spacious feel of the first floor, where the kitchen, family room and breakfast nook all flow seamlessly. A large covered patio is accessible from the breakfast nook – a perfect design for the indoor/outdoor lifestyle that's so important in Texas.
About our Parade of Homes™ entry in Mission Ranch:
If we had to describe our Mission Ranch model home in one word, it would be "striking." From your first glance of the impressive exterior to every detail of the interior, this home makes a lasting impression!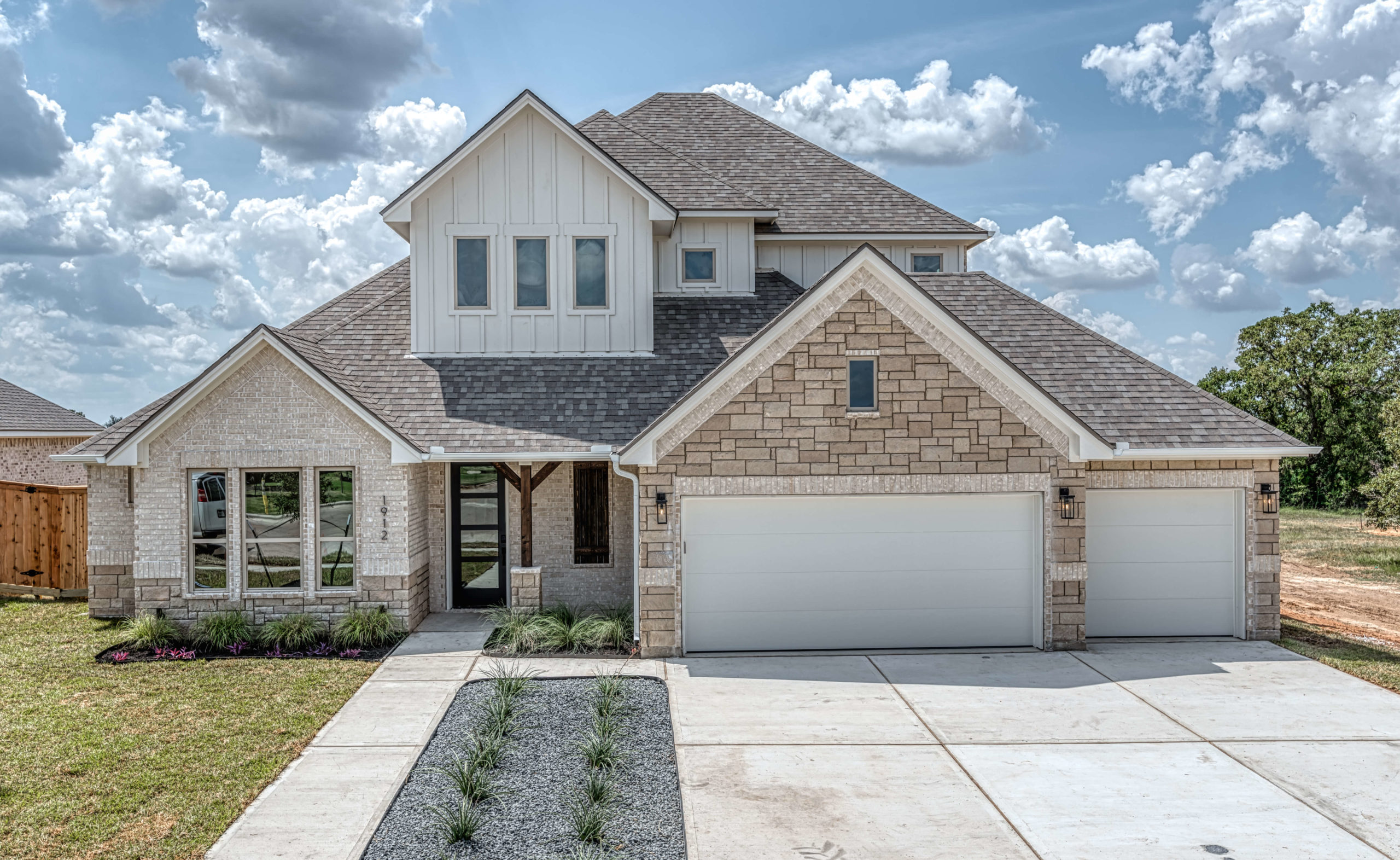 Meet Victoria
Our Mission Ranch entry in the Parade of Homes™ features our Victoria floor plan, with four bedrooms and two and a half baths. If you fall in love with this plan – and we think you will – you should know there are options for three to five bedrooms and 2.5 to four baths. So versatile! And car enthusiasts will be happy to know our model includes a three-car garage.
The Victoria floor plan is just over 2,700 sq. ft., with up to 20-foot ceilings for a grand entrance and 10-foot ceilings throughout the first floor that make it feel even more spacious.
The master bedroom includes a charming bay window, and the large en-suite bathroom features a Euro Shower and separate vanities. You'll love the walk-in closet, easily large enough to accommodate even the largest wardrobe.
Safety Guidelines for the 2020 Parade of Homes™
We're committed to keeping our guests safe. Every home featured in the Parade of Homes™ must follow CDC, state, and Brazos County safety regulations. Here's a brief overview of what you can expect.
Our staff will be wearing masks.
Visitors are required to wear masks.
Hand sanitizer will be available at the entrance to our model home.
The number of visitors allowed inside the home at one time will be restricted.
Bathrooms and powder rooms will be unavailable.
All visitors will be required to enter through the front door and exit through the garage.
This is just an overview, not an inclusive list. More information can be found on page 30 of InSite Magazine.
Can't make it to the Parade of Homes™? We'd still love to see you!
To keep our team and your family safe, onsite tours are by appointment only and must be scheduled in advance.If you visit us onsite, masks are required in compliance with state and Brazos County regulations.
We've also recently added two new safe, convenient ways you can tour our beautiful model homes.
Virtually guided tour: Tour our model home with a virtual guide. Our sales coordinator, Ariel, will be there virtually via Google Home and a dedicated flat screen to guide you and answer any questions.
Live video tour: Explore our homes from the comfort of your couch. Ariel will walk you through our model home and answer your questions as you watch from your preferred smart device.
Our model homes are completely sanitized between each onsite visit.
To set up a tour with a virtual guide, call us at 979-977-5775 or email ariel@rnlhomes.com.  To learn more about touring RNL Homes, click here.  We're also available for virtual meetings if you have questions or would like to discuss building a new home Bryan College Station. Just call us to schedule your appointment!