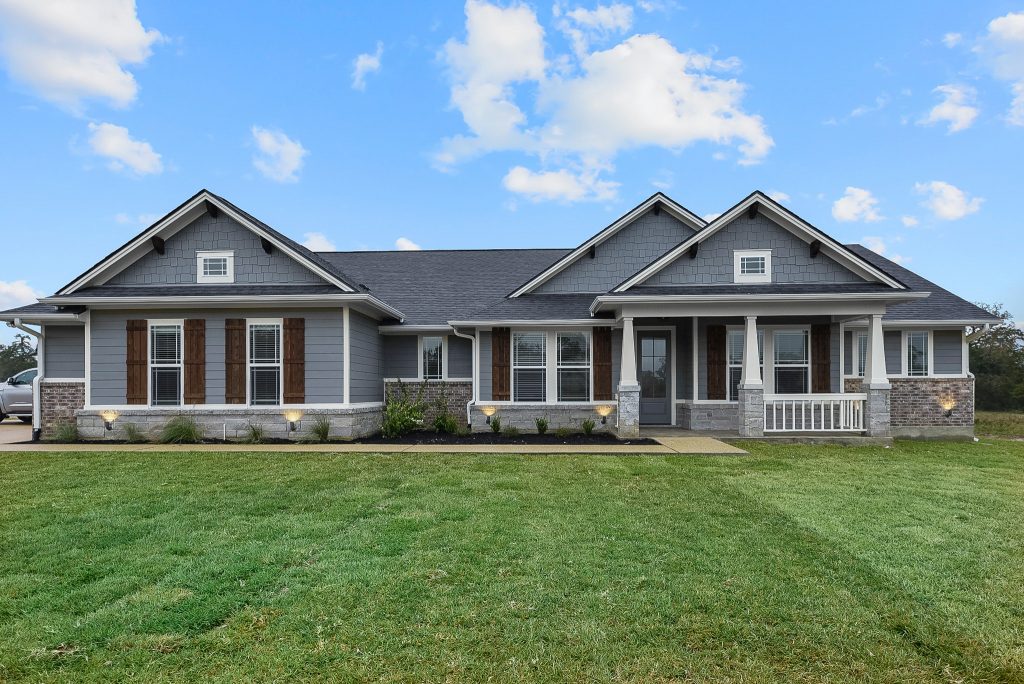 A look inside RNL Homes' process
All of us at RNL Homes really love what we do, and that includes answering questions and guiding people through the home building process. One of the first questions we're usually asked is:
What's the home building process like?
In our experience, most people aren't really asking only about the construction of the home. What they really want to know is what to expect, and an overview of the general process from deciding to build a new home all the way to getting the keys.
Community –> homesite –> floor plan
Most people who come to us already have a community in mind. If they don't we'll listen to find out what they're looking for in a community, and how much they would like to invest in their new home. Then we make suggestions as to which Bryan-College Station communities may be the best fit.
Once a community is chosen, the next step is to select a homesite in which things like the sun orientation, and other aspects will be taken in consideration. Some of our customers have already chosen a floor plan by this time, but if they haven't, we're good at helping them choose the floor plan that fits their lifestyle best as well as the elevation style that best suits their personal taste.
Making a list isn't just for Christmas!
Next we ask our customers to make a list of everything they'd like included in their new home. Ricardo – the "R" in RNL Homes, takes the base price of the home, prices any personalized choices, and presents a proposal with both the overall cost and line item costs. Preparing the proposal is a quick process that will be presented immediately and in some specific cases can take up to one or two days.
Once our customers have had time to review their proposal, they meet with Ricardo again to confirm their selected homesite, floorplan and personalized choices, and get the paperwork finalized via a purchase agreement that includes their proposal.
Defining and refining your style
Next, it's time for our customers to meet with Nora – the "N" in RNL Homes – to choose colors, lighting fixtures, cabinets, countertops, and more. These meetings usually take place at the model home. Not only does Nora have years of training in design, she's also truly gifted at listening to our customers and suggesting ideas and products that make their eyes light up with excitement.
Generally speaking, it takes most of our customers three to four appointments to go through the selection process of their new home. After the design selections have been made, Nora prepares a "selection packet" that includes photos, colors, and drawings of everything discussed during the selection visits. Our customers and Nora sign the selection packet, ensuring that they are getting exactly what they want in their new home.
There's also activity in the background
While the design selections are happening, RNL staff is working in the background to get everything ready for construction to begin. Examples include getting prep work started on the homesite, getting plans completed, and securing any necessary permits and other documentation needed.
But what about the "L" in RNL Homes?
Once selections are completed and it is now time to get to work on building your new RNL home, Luis – the "L" in RNL Homes – takes the baton. Luis is our Operations Manager, and although each community has its own Field Manager, Luis is very involved in overseeing construction of every new home and making sure everything is done to our high quality standards.
Luis also stays in contact with each of our customers during the building process, and makes sure quality assurance is closely monitored every step through the process. He also ensures customers are getting updates on their home's progress regularly through the community's Field Manager.
Have questions? We'd love to help!
That's a high level overview of the process of building a new home in Bryan-College Station with RNL Homes. As a family-owned and family-operated company, we take great care in making sure we exceed every customer's expectations and we take great pride in every new home we build. We look forward to helping make your dreams of a new Bryan-College Station home come true.